When teaching beginners to write indirect suggestions for learning conversational programming, I sometimes choose to start the training first with exercises to write simple direct instructions easily. And for this I use and share the design principle originally coined by the US Navy, and it is called KISS – Keep It Simple, Stupid. Also, famously known by programmers as Keep it Short and Simple.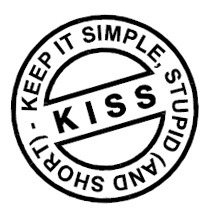 Some examples of simple instructions:
1. Write simple direct instructions first.
2. Develop an increasing curiosity for Maths everyday.
3. Become aware of your potential this moment.
4. Just take it now.
5. Instantly become aware of how this can benefit you.
6. Post your comments today.
7. Just do it now.
An example of a statement violating KISS:
Visualizing the urge to want to master calculus like a genie from 4 in the evening when you don't have tuition and have had snacks?
(Don't do the above)
Some tips to keep your instructions Simple and Stupid. 
1. Use a verb in the simple present tense. 'Sit down' is an instruction. You may not deliver it that way after you have had the opportunity to morph it into an indirect suggestion. However, if you start with it – if sitting down is an option – you are not giving yourself the necessary raw materials necessary to construct indirect hypnotic suggestions.
2. Say it in few words. This is not for increasing comprehension for the listener. The benefit of keeping it in few words is actually for the hypnotist. When you take these direct suggestions and make them indirect, you will have more flexibility if you can express your suggestion in short sweet words. It means your own thought process is clear and you exactly know what you want from your subject.
3. Focus on one outcome. Chunk up if you have too many outcomes. This is what chunk up means: boat, car, bike, car – have something in common. These are all vehicles. In the same fashion, you can easily get to the common outcome/purpose/intention of all the goals. And just go direct after it. If you want to learn more on how to learn to chunk up, especially in business communication, I highly recommend you read Precision by Michael McMaster &  John Grinder.
Other useful things:
1. Remember, we are writing direct instructions first, so that we can convert them into indirect suggestions subsequently. I wish to write more on how to convert direct suggestions to indirection suggestions soon. Until then you can read any reliable book on the Milton Model.
2. Yes, I do use very complex and nested suggestions. Complexity has to evolve naturally without violating the basic rules. And no matter how stacked or nested my use of language patterns, when I am demonstrating conversational programming, I, as a conversational programmer, know what are the basic suggestions that I am targeting. And this whole article is about giving oneself the opportunity to build this specific ability to discover useful suggestions first.
3. You can also read more on writing direct suggestions here.
I know the above writing can be very basic and I also know from reading and watching the various material available today for any interested learner that what is missing is the bare basics, so I hope you enjoy reading as you continue to master conversational programming. I have not included any exercise in this article and if you want an exercise you can use the same exercise mentioned in this post here.
Ps: This is a series of articles designed to help you become a Master Communicator who can change mindsets and belief structures conversationally. Each article will provide an exercise that helps you master the skill of conversational programming.